Morris County Kickboxing Fitness Classes
Action Packed 800 Calorie Kickboxing Workout in Morris County! Get Fit & Look Great!!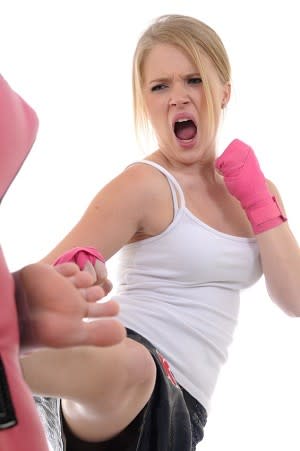 Look Great and get in Shape Fast! 800-Calorie Burning Boonton Kickboxing workout!
If you want a short, concentrated workout that will blast away your fat and whip you into the best shape of your life, then you want the best Thai Kickboxing Workout in Morris County.
Located in Boonton, Thai Kickboxing combines kickboxing with an exhilarating high energy workout that targets every inch of your body from head to toe. This is an intense 45 minute calorie-busting workout that will improve your strength, speed and resilience, as well as enhance your flexibility and reflexes.
45 minutes for a full body workout while Learning Amazing Self Defense Moves
With Thai Kickboxing, your hands, arms, elbows, legs and knees will punch and kick their way into shape. Plus, you'll do a small amount of stand-up grappling, and use the strength of your shoulders, arms and legs to stop opponents from executing their techniques.
When your 45 minutes is up your will have completed the ultimate full body workout.
With Thai Kickboxing you'll burn calories, relieve tension and stress, promote a sense of calm confidence and send your energy levels through the roof.
Lose fat, Build Muscle, Get in Shape With Boonton Kickboxing
So whether you want to lose weight, improve your health, or have that rock hard body you've always dreamt of, Thai Kickboxing deliversà
Don't You have 45 Minutes To Invest in yourself?
Because we'll provide the fun, motivation and training expertise to transform your body big time at Boonton Kickboxing!
Convenient To Any Location!
So, you're ready to get in shape and take the next step? Don't worry! Our kickboxing classes in Morris County are convenient to all of the following locations: Boonton, Parsippany, Montville, Parsippany, Towaco, Lake Hiawatha, Denville, Rockaway, Kinnelon, Mountain Lakes and Lincoln Park.
Get Started With Boonton Kickboxing
To find out more about this incredible 30-minute Fit Xpress program just scroll up, fill in the form on the right hand side, and we'll send information directly to your inbox
Benefits of Morris County kickboxing fitness
Hard 6-pack abs
A lean sculpted torso
Well-defined arms, back and chest
Shapely thighs